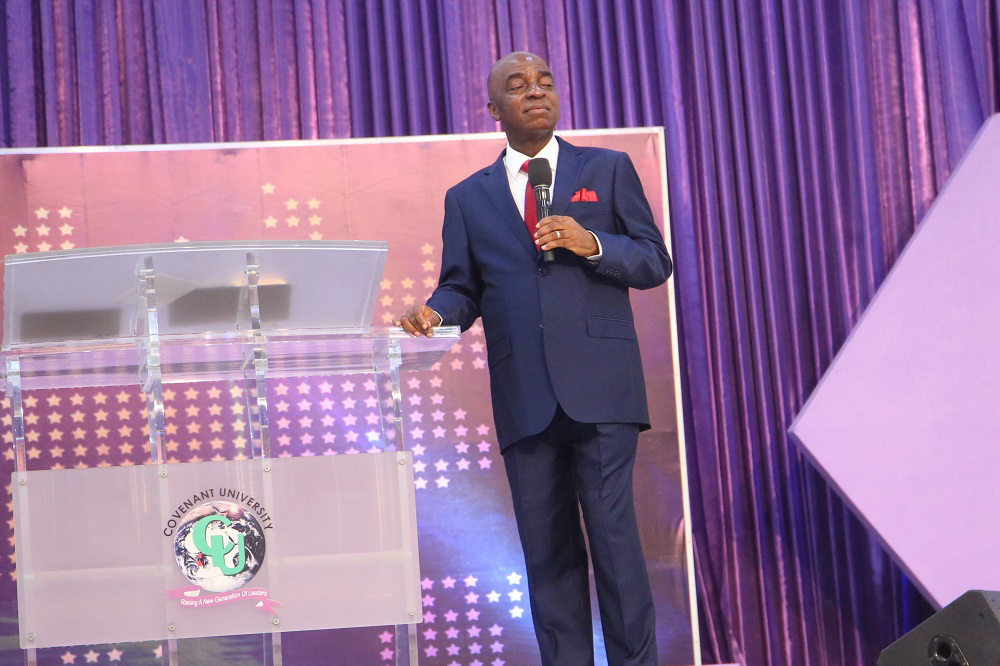 Dr Oyedepo made the call during the impartation service of the joint Executive Advance session of Covenant and Landmark universities, where he spoke on the subject of 'Impartation of the Spirit of Might'. He said there was a need for focus and craving the impartation of the Spirit to channel resources and energy in the right direction and endeavours.
He said everyone must beware of becoming a wandering star, that is, people who ought to be stars in their field, but they keep wandering from one place to another in an expedition for flux and better situation. He cautioned academics, administrative and technical staff of both universities to develop a mindset of staying on their assignment in other to emerge a star in their field of human endeavour.
While positing that express access to the impartation of the Spirit of might was vital in walking in the centre of God's will for one's life, Dr Oyedepo noted that intellectual strength or might was primarily accessible through inspiration by the Spirit of God.
The Chancellor stated that the present age would witness a rise of men and women of unusual spiritual, intellectual, emotional and physical strength as seen in the biblical patriarchs. He added that the Spirit of might was one of the required virtues for the end-time army that would record seemingly impossible feats in their areas of specialization.
According to him, as members of the end-time Church, professionals of the household of faith, were ordained to rule in the midst of her enemy and to reign over the nations of the earth, "but this will make demands on our energy level; spirit soul and body, else it will never become a reality," he posited.
Dr Oyedepo said it was the power of the Holy Spirit that engraced the redeemed to go beyond their natural capacity in the pursuit of a given task, and in recognition of the time we are in, when God is raising an end-time army of men and women with unusual strength for command of extraordinary feats, that grace, he said, would be multiplied.
"Every exploit will make demands on our strength and energy, and this also includes: might in the inner man and emotional strength that engraces individuals to live above discouragement," Dr Oyedepo added.
He said the empowerment of all was necessary for the kind of assignment God has prepared for each one, noting that it was the impartation of the spirit that would make each one remain cheerful despite challenges, without an emotional breakdown. "No one can command exploits breaking down with every little challenge," he concluded.
Since its inception, the annual Executive Advance platform has been a pivotal forum for setting the stage for the academic and operational drive of both Covenant and Landmark universities.https://covenantuniversity.edu.ng/information/more/covenant-news/422-stay-focused-on-your-assignment-get-empowered-dr-oyedepo