HEALTHY HAIR CARE
SLAY GIRL, SLAY!
Article by: ALO ENIOLA STEPHANIE
You've probably been wearing that wig for weeks, not to even mention the cornrows underneath that wig. I know you're tired of that crusty look, well I am too! Look no further and read on! This is your last stop on your hair journey Sis!
Doing your hair can be expensive, surely requires a whole process and most times it's VERY stressful. The process usually starts from thinking about the hairstyle, the price, the person for the job and then finally the pain from sitting down for hours! Haircare is the best investment to serve you good looks for a lifetime.
With that being said I think it's time for you to take a break from getting your hair done. Let that hair breathe girl. Treat your natural hair with all the love and care it deserves, let it be your baby! This article brings you natural hair care tips that can do wonders to your hair health.
Here are the best hair care techniques that will do wonders to your hair:
Massage your scalp: according to research, this helps to relieve tension and stress. It increases blood circulation in the scalp. You can use essential hair oils by using your fingertips and applying medium pressure to the scalp.
Get enough sleep: the right amount of sleep allows the body to restore itself. As an adult, you need at least 7-8hours of sleep
Eat healthily: the health of your hair depends on the type of food you eat. An improper diet will lead to hair problems such as uneven growth, hair fall, dryness, dullness and fizziness. Eat foods rich in protein, vitamin A, B, C, D, E and K.
Drink enough water: just like plants, your hair also needs water to grow. Drinking an adequate of water keeps your scalp hydrated and that results in healthier hair.
Sleep on satin pillowcases: switch to a silk or satin pillowcase because they create less friction and prevent breakage.
Avoid tight hairstyles: this is almost unavoidable but they are really bad and they cause great damage to the hair. They can cause scalp pain headaches and breakage.
When you start taking care of your hair and you notice the difference you'll never want to stop. Read on for all the inspiration you'll ever need to keep switching things up. You're on the journey to start looking effortlessly beautiful!
Here are some natural hair protective styles to keep you looking classy:
Curly Bantu Knots
While Bantu knots can be worn smooth and sleek, they also look incredible with swooped edges and curls peeking through.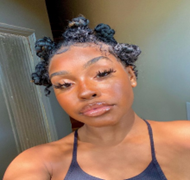 2. Flat Twists
Like cornrows, flat twists are braided onto your scalp. You can wear the twists as is, or do a flat twist to get a more defined twist-out.
3. Braided High Pony
A sleek, high pony is forever glam. You'll channel your inner Beyoncé by adding a braid to the look.
4. Chunky Twists
I love twists because not only are they a great, low-manipulation style that protects your hair; but they can also be styled in so many ways for work, going out, or just lounging around.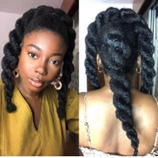 5. Buz cut/ curly low cut
This look requires a lot of confidence! Showcase that big smile on your face and that chic walk and I'm sure you're good to go. This can be the start of that new healthy growth.
SLAY GIRL, SLAY! Enjoy your healthy hair